Disappointing Verdict for Nur Alam
Tue, 04/03/2018 - 00:00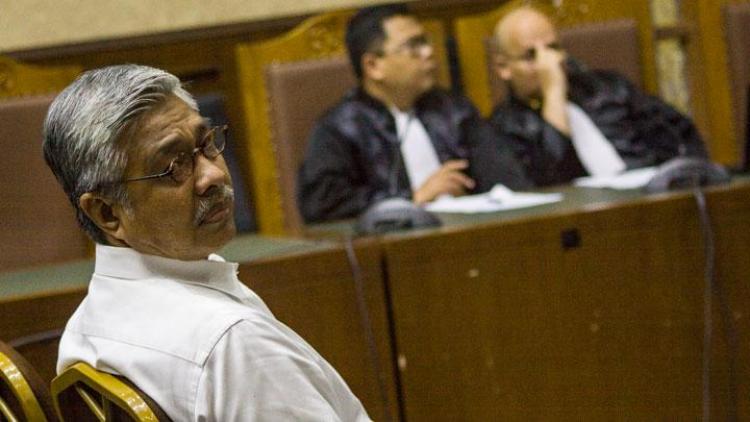 Foto: Nasional Tempo.co
The non-active governor of Southeast Sulawesi, Nur Alam, was finally sentenced to 12 years in prison by the Panel of Judges of the Jakarta Corruption Court on March 28, 2018. Nur Alam was also required to pay a substitute of Rp 2.7 billion and had his political rights revoked for 5 years after serving his sentence.
Nur Alam was charged with the corruption case of publishing of the mining licence for PT Anugrah Harisma Barakah (AHB), for which a gratification of Rp 40.2 billion from PT Richcorp Ltd. was received; misusinghis authority for the purpose of self-benefit by Rp 2.7 trillion and PT Billy Indonesia by Rp 1.5 trillion, and resulting in state financial losses of Rp 4.3 trillion derived from environmental damage of Rp 2.7 trillion and state losses of Rp 1.5 trillion.
By the Prosecutor of the Corruption Eradication Commission, Nur Alam was charged with violation of Article 2 paragraph 1 or article 3 jo Article 18 of Law Number 31 of 1999 as amended in Law Number 20 of 2001 concerning the Eradication of Corruption jo Article 55 paragraph 1 point 1 of the Criminal Code (KUHP).
The verdict of the judges is considered disappointing for a number of reasons. First, according to Indonesia Corruption Watch, Nur Alam should be prosecuted and sentenced with the maximum possible sentence of life in prison. The value of state losses incurred, reaching Rp 4.32 trillion, is remarkable, marking a record high in the history of corruption case prosecution in Indonesia. What was done by Nur Alam was not only detrimental to the state's finances but also had an impact of long term environmental damage, lasting for generations. Nur Alam's capacity as governor or head of the region should be a role model for his people in eradicating corruption, instead, he became a perpetrator of corruption. Nur Alam has also damaged the credibility of the government, especially the provincial government of Southeast Sulawesi.
Second, the jail sentence given by the judge was lower than the prosecutor's demand. The prosecutor previously demanded 18 years for Nur Alam, however the judges reduced the sentence to 12 years in prison. The money to be repaid is only Rp 2.7 billion, far below the state loss reaching Rp 4.3 trillion.
Third, the judges did not include environmental losses, ecological losses, and environmental recovery costs of Rp 2.7 trillion as part of the state's losses. Thus the calculation of the state loss was limited to only Rp 1.5 trillion, according to the calculations of the Financial and Development Supervisory Board (BPKP). The judge also did not see the method of calculating environmental losses in the Nur Alam case as a progressive precedent to be applied to other corruption cases related to natural resources.
It should be considered by judges to include calculations of environmental losses in any decisions related to corruption cases related to natural resources. Corruption in the natural resource sector is not only detrimental to the state, materially, but also result in environmental damage that takes a long time to recover. (Tari/Emerson)