Public Procurement Reform: How Far Have We Come?
Analysis of 10 years Public procurement Reform in Indonesia
Wed, 02/09/2022 - 16:35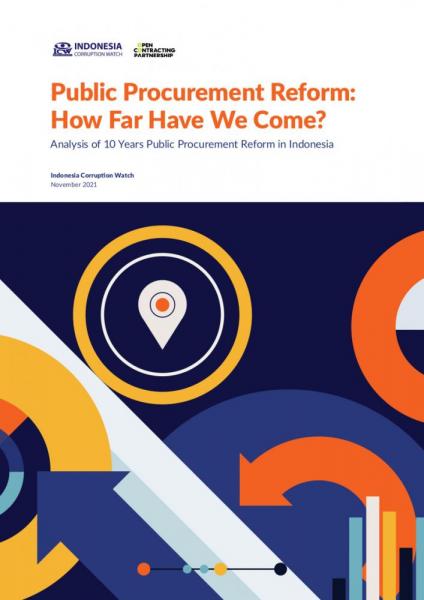 In 2018, Indonesia Corruption Watch (ICW) initiated various advocacy work to encourage public oversight and push for open contracting in the public sector in Indonesia. ICW has been doing so after studying about the vulnerability of public contracting to corruption. ICW's evidence show that in 2016, 2017, 2018, and 2019 an average of 40 percent of corruption cases per year are in some way related to public contracting. In 2019, the number went even higher to 64 per cent.
While there are multiple factors that can contribute to fraudulent practices in the public sector, especially corruption in public contracting, one key factor that cannot be ignored is the lack of participatory oversight. The limited information that is accessible to the public has mainly been preventing greater scrutiny. 
In order to shed more light to open contracting and therefore narrow the room for fraud and corruption, contracting information needs to be more transparent. Making contracting information available to the public means opening opportunities for citizen oversight. More than that, it may lead to improvements in terms of the quality of public service, accountability, efficiency, and fair competition between private firms.
To support transparent and accountable public contracting, ICW developed the Opentender platform to point the public into the right direction when it comes to oversight. ICW also engage other groups in its oversight advocacy, such as other civil society organizations (CSOs) and local journalists.
Since the issuance of Presidential Regulation Number 54 of 2010 on Public Procurement, which contains stipulations on electronic procurement systems, millions of contracting data have been made available and some notable improvements are recognized – both in terms of regulation and system. Nevertheless, research on public contracting in Indonesia remains limited. ICW seeks to contribute and enrich the discussion in this area by conducting research on contracting information and use cases by the academia, journalists, CSOs, and the government, in this case government internal auditors.
This report brings public contracting trends/patterns linked to competition, efficiency, participation, and integrity and examines how data disclosed and made available on the Opentender platform are being used thus far. This research is expected to contribute to better policy making and public contracting data in terms of availability, accessibility, and data integration. Moreover, the findings of this research are hoped to drive greater public participation in public contracting oversight to support a more transparent and accountable contracting.