Mapping Fraud Potentials in E-Purchasing Procurement in Indonesia
Wed, 05/31/2023 - 14:25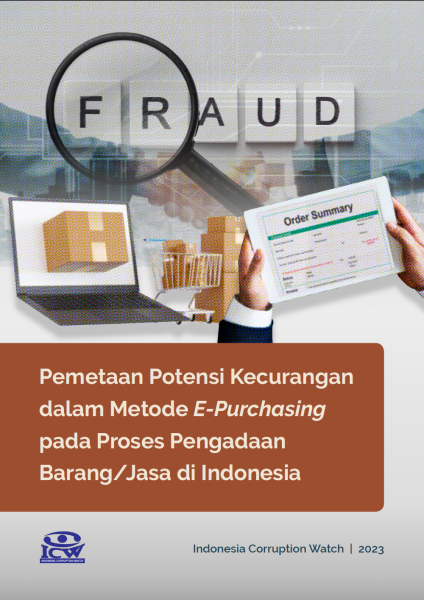 Corruption in the public procurement sector continues to be a global issue. According to a report from the United Nations Office on Drugs and Crime (UNODC), 10-25 percent of public money was lost to corruption in this sector. Meanwhile, in a 2014 report titled "The OECD Foreign Bribery Report", the Organisation for Economic Cooperation and Development (OECD) indicated that 57 percent of bribery cases that involved foreign public officials were committed in order to win public contracts.
The complexity of public procurement process creates opportunities that perpetrators exploit for their advantage, especially when the process employs a manual or face-to face system. This situation led to initiatives to transform public procurement into an electronic process to minimize interactions between parties and to eventually closing the gaps for corruption.
According to Salusra Widya, the Principal Secretary of the NPPA, direct purchase or e-purchasing represents one of the government's endeavors to prevent fraud and corruption in public procurement. Additionally, this method is considered effective in expediting procurement process without compromising accountability.
At the same time, ministries/state institutions/local governments (together referred to as buyers) are mandated to use e-purchasing in the procurement of goods and services that are relevant to national and/or strategic interests adopted by a Minister, Head of Institution, or Head of Region.
To promote the uptake of e-purchasing, in 2022 the government through the NPPA targeted to expand the number of products in e-catalogues to 1,000,000 (one million) items with a focus on domestic products. With more commodities available on the catalogues, buyers will have more flexibility in their purchase decisions.
With respect to the NPPA's annual state of procurement report, the number of purchasing transactions in the last three years made up 10 per cent of the total public procurement. The total procurement packages and cumulative transaction values in 2019 were 345,557 packages and Rp69.2 trillion; 295,532 packages and Rp49.5 trillion6 in 2020; and 228,207 packages and Rp49.7 trillion in 2021.
While e-purchasing method is gaining traction, research that is focused on mapping fraud potentials in this particular method was yet to be conducted. This study is therefore pertinent for the government to formulate systems or policies to detect fraud in e-purchasing.