When Yogyakarta's Journalists and Civil Society Organizations Join Forces
Sat, 10/24/2020 - 15:22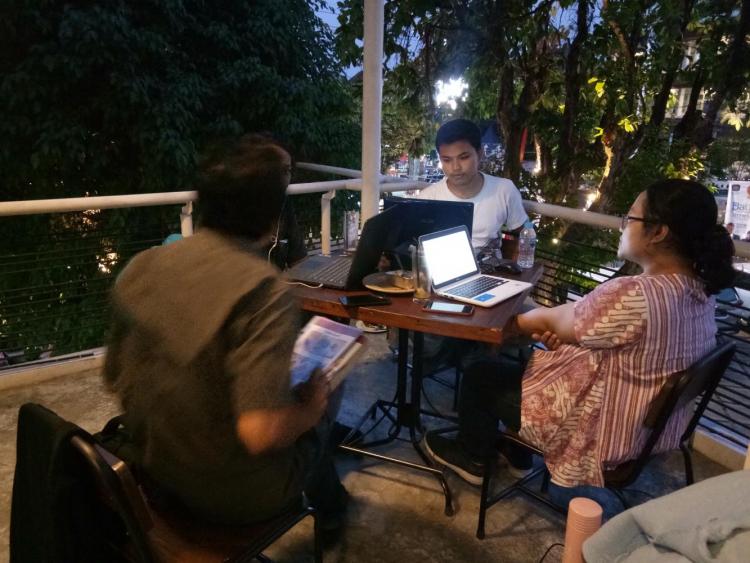 How Yogyakarta's journalists and civil society organizations worked side by side and revealed possible fraud in a public construction project.
Bhekti Suryani was not satisfied with the impacts of an investigative story that she co-developed. The story, which was published in the middle of November 2019, investigated a tender project – the construction of a building to accommodate street vendors that were relocated from Yogyakarta's famed Malioboro street. There was suspicion that fraud might be involved. For three months, Bhekti and her team studied numerous documents and interviewed many people.
"There was an obvious pattern of malpractice in the project, and it screamed nepotism. But nothing was being done legally," she said.
A journalist, Bhekti works for Harian Jogja daily newspaper. She became a part of a collaborative investigative reporting project that also involved Yogyakarta's civil society organizations. Each journalist in the team wrote and published a story through their respective media.
The project was hatched after 20 journalists and civil society activists attended a training on public procurement delivered by the Indonesia Corruption Watch and the National Public Procurement Agency (NPPA) in early July 2019.
Following the training, Bhekti proposed to pursue a story about a construction project that was taking place on a site where Yogyakarta's first cinema, "Indra", used to stand. 
Even from the surface, the project had roused suspicion of fraud. To confirm, the team relied on OpenTender.net, a website that could be used as a tool to ascertain the risk of corruption in public procurement. The website's risk assessment feature generated a score of 19, which meant that the project in question was indeed highly vulnerable to fraudulence.
Once the story's focus was agreed, a team was then assembled. In the absence of selection criteria, all training participants became team members. But the team's considerable size proved to be a hindrance. It was difficult to find a rhythm and progress was slow at first. The journalists also had different experience level, something that Bhekti pointed out. "Some of them were not used to working with data," she said. Moreover, not all of them were as enthusiastic to be part of this investigative project.
Haedar, a team member from IDEA Yogyakarta, an NGO, identified other problems outside of experience, namely support from editor-in-chiefs. Some journalists continued to get their usual workload, and this prevented them from doing investigative work, which was distinct from non-investigative journalism, as Haedar said. There is so much involved in crafting an investigative story, from mapping out an issue, going after documents, to confirming all the names mentioned in a writing.
In fact, only three journalists worked intensively during the long hours of document perusal. "The others had to do their usual reporting assignments," Haedar explained.
The lack of knowledge in public procurement was the next challenge. Most team members had not been familiar with open contracting, according to Haedar, and there was a different advocacy focus especially among civil society activists in the team. Some preferred to pay more attention to the people impacted by the relocation – porters, sellers, and the poor. Worse, several team members eventually decided to step down. 
Nevertheless, Haedar asserted that the team agreed that the relocation was potentially detrimental to a lot of people. "Public budget oversight became our common ground," he claimed. 
The team divided themselves; the activists were assigned to get procurement documents and the journalists had to confirm their findings. And yet another stumbling block appeared, as all of them worked at their own pace.
Bhekti admitted it took a while to be moving as a team. Their timeline got further delayed since procurement documents were difficult to get. When the journalists were ready to meet with their sources, the other half of the team still struggled to collect evidence. "We got closer and closer to deadline," said Bhekti, while the coverage took longer and longer to complete. 
Headar admitted that it was not easy at all for them. "We weren't used to reading tender and procurement documents," he said. 
Access to information was also limited, as the Yogyakarta government considered procurement documents to be confidential. 
Refused to give up, the team tried other ways. Haedar approached some officials he had known personally because of their previous cooperation, while the team at one point went through the official contact channel. None of them succeeded. "We only got documents that were accessible on the internet anyway," Haedar stated.
Using what they had, the team met with several people who might have information about suspected monopoly and fraud in the tender. 
The story finally came together and was published. The team found that the tender had used a quick procurement method that was only supposed to be used in small projects. They also found that contractors of two out of three construction work packages were controlled by one person, which hinted monopoly. 
But after the story was out, there was nothing much the team could do. There was also no acknowledgement from the Yogyakarta government that according to Haedar, "Is never known to be candid."
To ensure their work leaves a mark, Haedar expected for open contracting issue to get a spotlight in public discourse. "Public procurement needs to be mainstreamed," he said. The goal is to raise public awareness and, with more people involved and capacity increased, public oversight will also improve. This outcome is especially important since Yogyakarta records substantial public project value every year.
Bhekti admitted she was disappointed that her story did not result in a criminal investigation. Nonetheless, it was a valuable experience that has sharpened her instinct; now, after Open Tender, her mental alarm goes off every time she hears about a public procurement project.
As Bhekti said, "Whenever we find out about another procurement project, the instincts kick in. Might there be fraud?" []