Trends of Corruption Prosecution 2018
Thu, 07/05/2018 - 17:13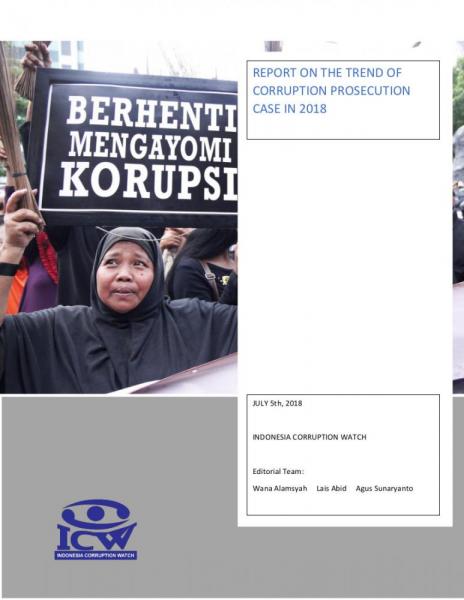 Trends of Corruption Prosecution 2018
Corruption is one of the current issues happening in Indonesia. Based on Corruption Perception Index (IPK) in 2018, Indonesia ranked 89 th from 180 countries. Indonesia scored 38 from the scale of 0-100, where the lower number resembles the more corrupted country, and vice versa. In compare with 2017 rank, Indonesia placed 96th with the score of 37. The additional one point from IPK does not affected the law enforcement to maximize the corruption eradication, though we have achieved higher position. This condition should become an evaluation for the law enforcement apparatus in developing corruption eradication strategy.
The law enforcement agencies as the leading sector in the effort of the corruption eradication have been facilitated by infrastructure as well as state budget. The police have owned 535 offices across Indonesia that has the authority to prosecute corruption cases. The budget managed by the police to handle one corruption case amounted at Rp. 208 million. While, the prosecutor's office has owned 520 offices across Indonesia with the budget amounted at Rp. 200 million, the details are as follows: preliminary investigation (Rp. 25 million), investigation (Rp. 50 million), prosecution (Rp. 100 million), execution (Rp. 25 million). As for the Corruption Eradication Commission (KPK) have owned one office and received the budget at the amount of approximately Rp. 12 billion for handling 85 cases.
With all the facilities had given by the states in the effort of corruption eradication, the civil society then have a role to supervise the work of law enforcement agencies, from the beginning of case-handling, suspect's determination, up until the findings of state's loss. This supervision role is needed and also in line with President Regulation No. 43 year 2018 on The Procedures of Community's Role Implementation and The Appreciation of Corruption Prevention and Eradication.
In the context of corruption eradication, the community capacity needs to be placed as an effort to oversee the management of alleged corruption case up to its completion. By this means, the law enforcer obligates to give the information access to facilitate the community regarding the development of case management. Based on the ranking report published by the Information Commission in 2016, the police and the prosecutor's office are not included in the top 10 of the management of information openness, while KPK is included in the top 10 under the category of heading towards informative. However, in 2017 the law enforcement agencies are not included in the ranking of disclosing informative information.
To encourage the information's availability for the community on the management of the corruption cases done by the law enforcement, Indonesia Corruption Watch (ICW) conducts information exploration as the effort to give the illustration to the community regarding the corruption cases happened in Indonesia in 2018. This gives the community a channel to actively supervise and monitor the management of corruption cases by the law enforcement if there is any indication of wrong-doings.