Trends of Corruption Prosecution 2016
Wed, 04/05/2017 - 00:00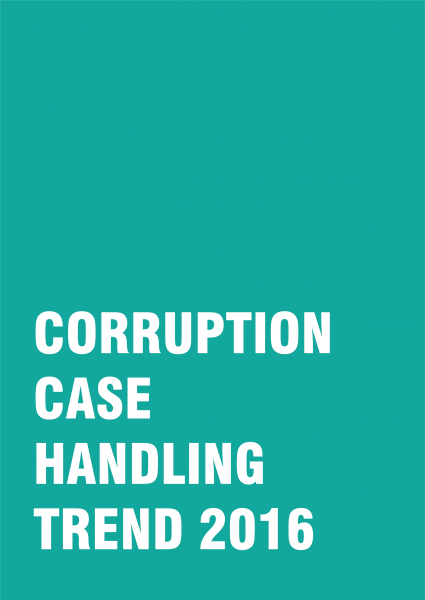 This research was designed to conduct a mapping towards the corruption cases which were investigated by the LEO in 2016, including: number of corruption cases, type of corruption handled, total amount of state losses, number of suspects, modus of the corruption, sectors where the corruption happens, position of the corruptor.
The output of the research is expected to stimulate the data transparency of corruption case handling in the law enforcement institutions, whether it is in the Police Force, Attorney General, or KPK.
BACKGROUND
1. The information regarding the corruption case handling which handled by the Law Enforcement Officers was not published transparently, especially from the Police Force and Attorney General. Based on the Decree of Central Information Commission No. : 03/KEP/J.II/XII/2016 regarding the Ranking of Information Transparency of Public Entities in 2016 by Central Information Commission, Corruption Eradication Commision (KPK) stands on the 10th position with the rating of 86,87 and it is included in the "Towards Informative" category, while Attorney General and Police Force was not included in the top ten. 
2. The data regarding the amount of corruption case reported was only in the form of statistics accumulated every year and it doesn't have the details of the corruption cases.
METHODOLOGY
- Monitor corruption cases in the enquiry stage  where the suspect is already determined.
- Collect data of corruption cases which has been revealed to the public by the LEO, whether through official website or mass media.
- Conduct a tabulation on the cases which has been revealed to the public and monitored by (Indonesia Corruption Watch) ICW.
- Compare the statistics on all parameter analysis.
- Conduct a descriptive analysis on the corruption case enquiry.