Setya Novanto Must Resign From His House Chairmanship
Tuesday, 25 July 2017 - 00:00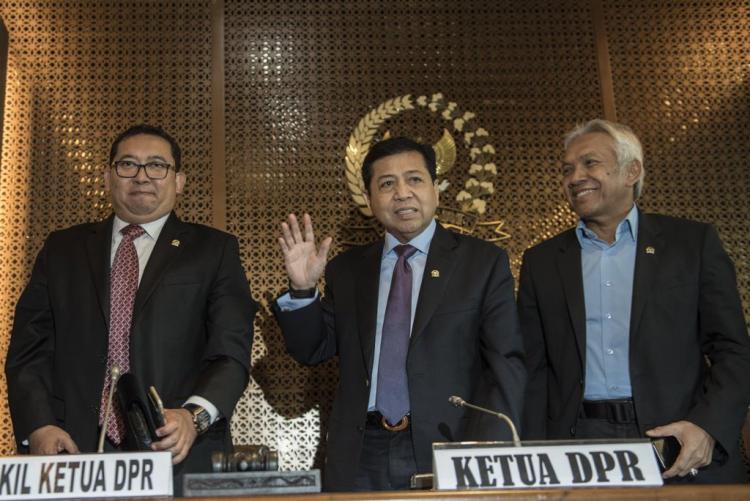 The naming of Setya Novanto (SN), Chairman of the House of Representatives, as a suspect by the Corruption Eradication Commission, on Monday 17 July shocked the public. Once again, the Commission named a high-ranking official as a corruption suspect.
KPK's move to name SN as a suspect is regarded as a daring move in a time when the House is attempting to inquire KPK on that case, misusing its Right of Inquiry.
Referring to the results of the examination and the facts in the hearings of the e-KTP case, which began last March, with Sugiharto and Irman as suspects, it is found that the testimonies of various parties in the hearings mention SN repeatedly. The Chairman of the Golkar Party is said to control the budget of the e-KTP project with Anas Urbaningrum, who was then the Chairman of the Democratic Party.
The statement of Sugiharto and Irman also mentioned that SN took an active role in controlling the project, through meetings with project executors and officials of the Ministry of Interior. Witness M. Nazaruddin also mentioned that money was handed over to a number of House legislators in SN's office.
Further, SN's nephew Irvanto, director of PT Murakabi, led the consortium of companies participating in the tender of the e-KTP procurement. It is thus not surprising that KPK named SN as suspect.
Setya Novanto has a long record in various scandals. Prior to the e-KTP case, he was once urged to resign from his position as Chairman of the House of Representatives after he was reported to the Board of Ethics in the "Daddy wants shares" scandal involving PT Freeport Indonesia. In 2012, he was also investigated by the KPK related to the construction of facilities and infrastructure for the National Sports Week in Riau, with Governor Rusli Zainal as the suspect.
In 2006, SN was investigated by the KPK in the case of illegal rice imports from Vietnam with a tax loss of Rp 122 billion. In the same year, he was also said to be involved in toxic waste imports from Singapore on the island of Galang, Batam. SN also escaped the case of transfer of receivables of Bank Bali in 1999 after obtaining a Letter of Investigation Termination (SP3) from the prosecutor's office in 2013.
Now, for the first time SN is designated as a corruption suspect, due to enriching himself and abusing authority.
To prevent conflict of interest and to save the image of the House of Representatives as a representative of the people, SN must immediately resign from his position as Chairman. On the other hand, KPK also needs to take more assertive action by detaining SN to avoid political efforts that could interfere with the ongoing legal process. *** (Kes/Agus)
Share Link