Investigating procurement fraud allegations using Open Tender
Mon, 06/08/2020 - 00:00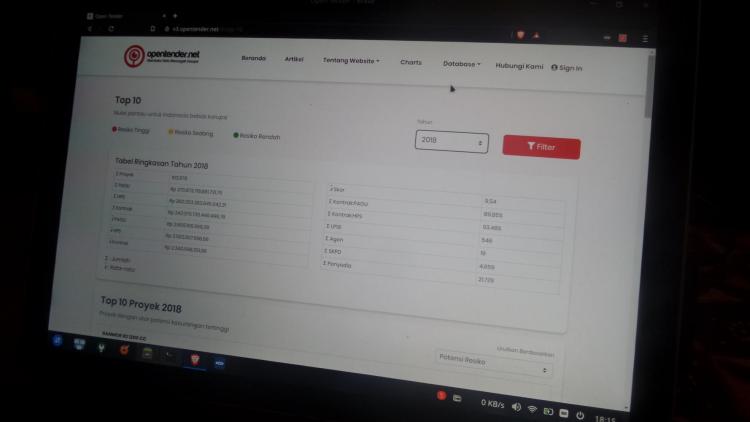 opentender
Three journalists in Yogyakarta Special Administrative Province investigate fraud allegations in government project. They are Arif Hernawan from Gatra, Haris Firdaus from Kompas, and Bhekti Suryani from Harian Jogja. By using Opentender.net, their investigation focused on a trade center construction project for street vendors in Malioboro area.
The government of Yogyakarta Special Administrative Province spent a total of IDR62 billion (approximately USD4 million) for the construction of the Malioboro street vendor relocation building. Opentender.net (hereinafter referred to as Open Tender), a platform developed by the Indonesia Corruption Watch (ICW), categorizes as a high-risk project with a score of 19. It was the highest-risk project in the province and the eighth highest nation-wide in 2018.
One of the factors that made Open Tender placed the project's risk so high was the low bidding participation level. In the first phase of the project, PT. Matra Karya was the sole participant in the bidding process. Moreover, the efficiency of this project was also considered poor. A comparison between the project value of IDR 43.994 billion (approximately USD2.922 million) to the IDR44.054 billion (approximately USD2.926 million) of owner's estimate generated by Yogyakarta government shows that the project efficiency was approximately just IDR 60 million (approximately USD4 thousand).
"Thanks to Open Tender, we had a basis to write about fraud allegation cases in [government] projects," said Arif Hernawan, a Gatra reporter who was involved in this collaboration. Arif said that they were confident to cover a story about suspected irregularities in a government project because there was an accountable examination method. " That's why we had the guts to investigate it," he added.
Another suspected irregularity in the Malioboro trade center project was the profile of the winners in the project's phase two and three which gave raise the question of alleged monopoly. The two companies were affiliated through the same individual, Muhammad Lutfi Setiabudi, a local entrepreneur. However, Lutfi denied the allegation and told the journalists that the project was collusion-free.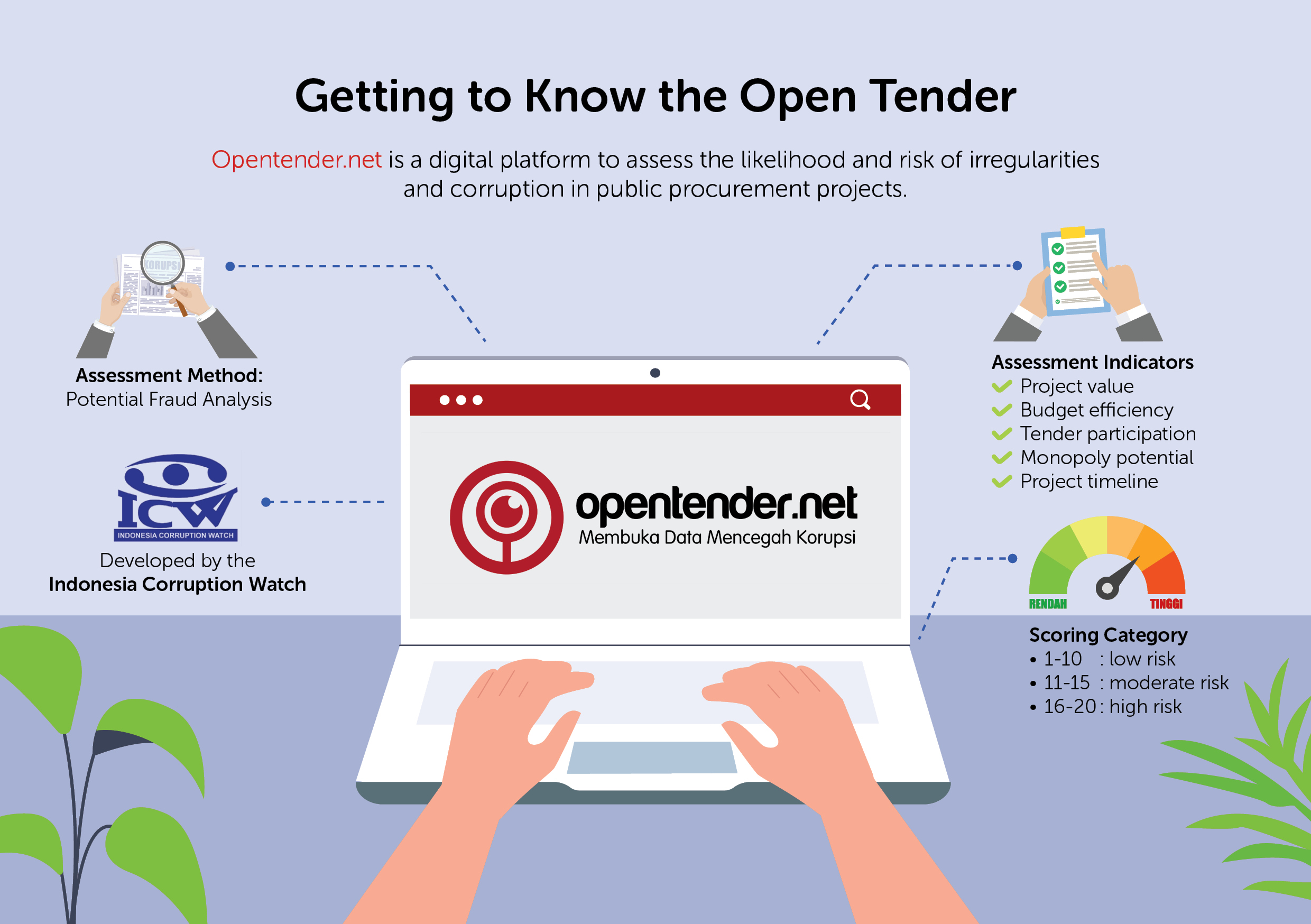 Introduction to Open Tender
To date, not many journalists write about public procurement projects as it was considered not a hot topic nor newsworthy.
Additionally, Arif (from Gatra) believes that journalists often face difficulties in accessing public procurement data. Due to lack of information, their investigations often get stagnant. To deal with the problem, another local journalist participating in the investigation Haris (from Kompas) said he would search procurement information on the Yogyakarta Electronic Procurement Services (LPSE) website and SiRUP (General Procurement Plan Information System), an application owned by the National Public Procurement Agency (NPPA).
However, Arif said, though journalists can get the preliminary information on government project from LPSE and SiRUP, most of them don't know how to jumpstart an investigation. As a result, they will cover public procurement issue only after a corruption case was revealed.
Arif feels lucky that he was able to join a training on how to use Open Tender in a training to oversee public procurement process on 1-3 July 2019 in Yogyakarta. This training was held in collaboration between ICW and the NPPA.
In the training, the participants learned about public procurement process and risks on fraud and corruption. They were also introduced to the Open Tender and learned to monitor government projects. To Arif, Open Tender is an asset that allows him to write sensitive issues and investigate the irregularities in a procurement project even without being a whistleblower. "Because, Open Tender uses clear parameters in generating score," he argued.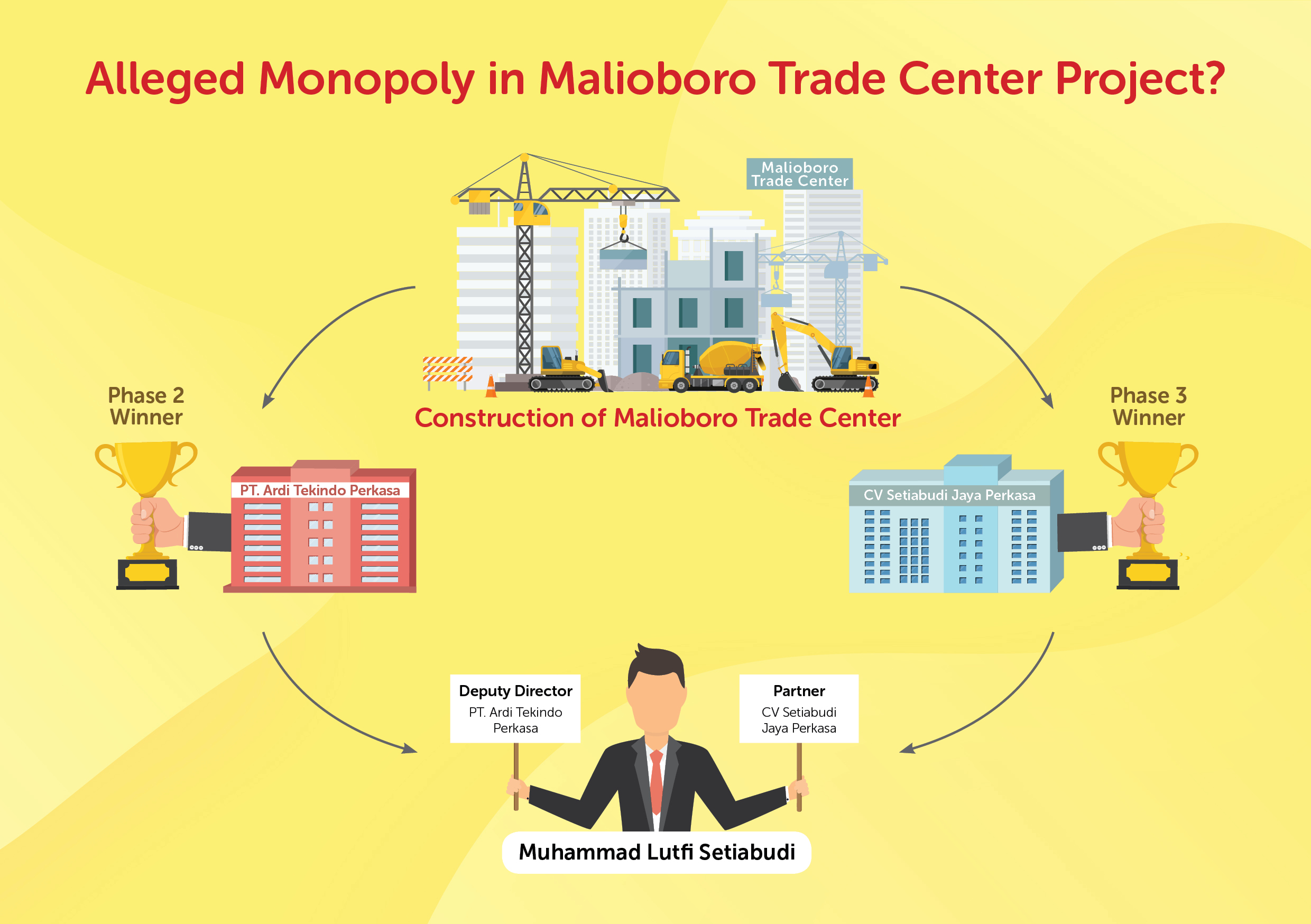 Challenges during investigation
Although Open Tender helps the journalists in obtaining procurement information, they still faced several challenges during the investigation. Officials of the two project-winning companies also attempted to obstruct the investigation. They found it difficult to get comments on the findings from Muhammad Lutfi, the local entrepreneur. Arif and Bhekti repeatedly contacted Lutfi without any response. Through the help of a third party as a mediator, Lutfi was finally willing to meet Haris, one of the journalists in the investigation team.
In the meeting, Haris explained that two of his colleagues were not fake journalists. He also stated that they were investigating the construction project of a trade center for street vendors in Malioboro. During the meeting, Lutfi repeatedly argued that he and his company were free from collusion. Lutfi also expressed his concern about the continuity of his business if the investigation was published and read by the public.
Another challenge, according to Bhekti, was the culture of the people of Yogyakarta. Yogyakarta citizens prefer to have a deliberation to resolve a problem and avoid disruption. "When there are irregularities, how can they be quiet?" said Bhekti. Arif Hernawan shared a similar criticism. "Our colleagues (journalists), they don't write straightforwardly, there are many hesitations," Arif said.
Despite the community's culture, the journalists' investigation using Open Tender continued. They finally published their report in Harian Jogja, Kompas and Gatra on 20-23 November 2019. Arif, Bhekti, and Haris hope that their fellow journalists would harness Open Tender website to monitor the implementation of government projects. They also encourage the Yogyakarta provincial government to disclose public information, including public procurement documents.(*)