A Glimpse Behind the Scene of Investigative Reporting
Sat, 10/24/2020 - 15:42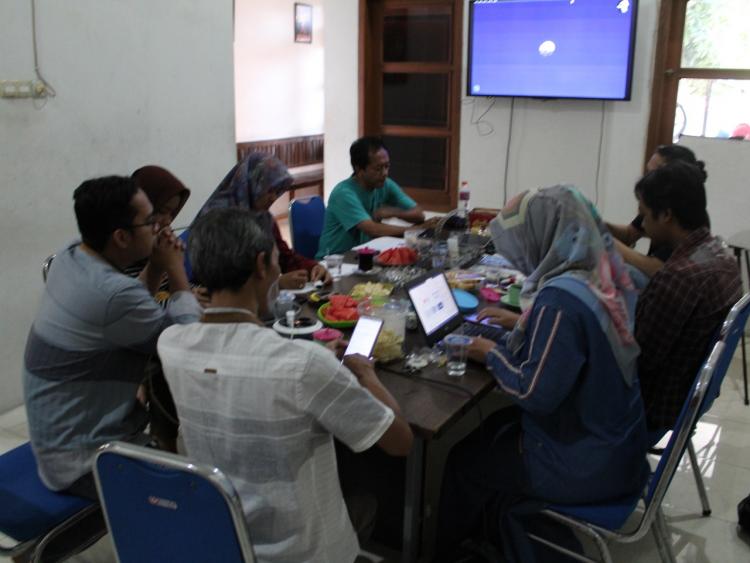 Other than interviewing and writing skills, a journalist also needs to be shrewd, including in picking the right time to contact a source. Bhekti Suryani, a journalist with Harian Jogja, learned this the hard way.
Bhekti was investigating an allegation of fraud connected to a street vendor relocation project in Malioboro, Yogyakarta and needed to schedule an interview with a source. A WhatsApp message was sent at 9 PM and a backlash ensued. Apparently, the timing of her message made the source, who later complained to one of Bhekti's colleagues, uncomfortable.
"Because I sent the text at night, he was worried his wife mistook it for something else," said Bhekti. 
Bhekti was not alone in the project; she was part of a collaborative investigative effort that involved civil society organizations and other journalists. She was the only female but felt it didn't impact her work. She's used to working with male colleagues and was able to quickly bond with her teammates. "There was no trouble at all, I was fast to adapt," she said.
What separated the project from her regular work was the investigative nature of the reporting. Longer research, document studying, data processing, and meeting with multiple sources were part of it, which made a piece take longer to complete than her usual articles. If there was one thing the job affected, Bhekti said, it was her responsibility at home. Like any other women, Bhekti shouldered a double burden that most men didn't experience, and admitted that "Investigative (reporting) took a lot of my time away from home chores."
The project started with eight journalists in the team. Without any criteria in place, anyone who took interest could join. As it turned out, some of the team members didn't enjoy the work. Moreover, not everyone had the skills to handle data or pursue sensitive information. To add to the challenge, open contracting was an entirely new issue to the journalists. 
Within a few weeks since the team was assembled, Bhekti lost some of her teammates and became the only female journalist in the team. Her reports were eventually published in a series in Harian Jogja at the end of 2019.
Bhekti's experience was shared by Ririn Wedia in Bojonegoro – also the only female journalist who survived the project. Ririn, other journalists, and civil society organizations were investigating Dander Water Park project in regency. The team began to work on June 19, 2019 and Ririn's piece was published by her media, Suara Banyu Urip, on November 8 the same year.
According to her team's investigation, two tender winners – that won the project valued dozens of billion – were affiliated with Fauzan, an MP from Bojonegoro Regional House of Representatives. Both companies were owned by Fauzan's family members. When confirmed, Fauzan admitted that the companies had been involved in the project.
Like Bhekti, Ririn said she wasn't treated any differently by her male counterparts. Surprisingly, the biggest hurdle during the investigation came from her office mates, who leaked the investigation result to Fauzan. They had a close relationship with Fauzan, Ririn explained, and felt compelled to approach him – perhaps especially since the journalists often had help from Fauzan. "They felt bad and eventually decided to spill our story," Ririn reminisced. 
Because of that, the MP called Ririn several days before print and rebuked the journalist – accusing Ririn of having malicious intent. Undeterred, Ririn continued her work. She was lucky to have the support of her editor-in-chief. "I felt responsible to publish this case," Ririn said, determined.
Intimidation did not cease following publication. Upset, Fauzan sent her multiple messages. He even threatened to summon Ririn's family in the event that he got inquired by the public prosecution office. Fauzan's texts and phone calls came everyday – sometimes imbued with verses of the Qoran. "How could you?" was one of his texts that Ririn could remember. 
Disturbed, Ririn asked her boss to step up. Her editor-in-chief suggested that Fauzan brought his grievances to the Press Council if the reporting had violated journalistic code of ethics.
Since then, Ririn's relationship with Fauzan has gone sour. She had often made Fauzan her source and asked him for a quote on whatever issue was afflicting Bojonegoro, but this was no longer an option. "I heard nothing from him after my editor-in-chief showed up." 
All the terrors aside, Ririn was also disappointed by the lack of support from among civil society organizations. She felt alone, and she lost the confidence of her contacts in Bojonegoro Regency Government. They became suspicious whenever she came by, afraid that Ririn was on another case. "They were afraid I'd be writing about them." 
It took a year before Ririn and Fauzan finally broke the ice at the end of July 2020. Ririn, who happened to be at the Bojonegoro parliamentary building, came face to face with Fauzan. After an awkward handshake and some pleasantries, Ririn asked a question point blank. 
"Are you still upset with me, sir?"
The MP smiled and said, "I don't see why I need to. It's an experience." []