Anti-Corruption Daily Digest: Update 2015-11-4
Thursday, 05 November 2015 - 00:00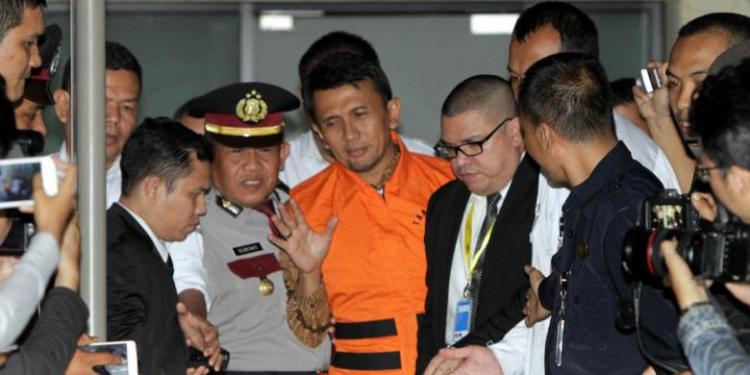 "Gatot muzzled pressure with bribery"
http://koran.tempo.co/konten/2015/11/04/386572/Gatot-Redam-Tekanan-dengan-Suap - Tempo, Wednesday, November 4, 2015
North Sumatera Governor Gatot Pujo Nugroho distributed money to many parties in order to secure his position. After admitting to having enormous political pressure from his deputy, Tengku Erry Nuradi, Gatot secured his administration by bribing members of the Provincial Representative Council (DPRD) in several several affairs, including State Budget (APBD) accountability report, APBD enactment, authorization of APBD revisions, down to aborting the council's exercise of their right to question (interpellation).
 
"Gatot named suspect in four corruption cases"
http://berita.suaramerdeka.com/smcetak/gatot-tersangka-empat-kasus-korupsi/ - Suara Merdeka, Wednesday, November 4, 2015
Non-active North Sumatera Governor, Gatot Pujo Nugroho, was again named as suspect by investigators from the Corruption Eradication Commission (KPK) for allegedly bribing local parliamentarians. Gatot was previously named as suspect in two cases under KPK's investigation, bribery for judges at Medan Administrative Court (PTUN) and bribery to manipulate investigation at the Attorney General Office (Kejagung). The politician from Justice Welfare Party (PKS) is also named as suspect by Kejagung on corruption of the province's 2011-2013 Social Aid funds.
 
"Don't intervene construction of DPR's new buildings"
http://print.kompas.com/baca/2015/11/04/Gedung-Baru-DPR-Jangan-Diintervensi - Kompas, Wednesday, November 4, 2015
Chairs and members of the House of Representatives (DPR) are asked not to intervene with construction of new buildings and a democracy square at Parliament compound in Senayan, Jakarta. Supervision is imperative in order to let DPR's General Secretariat as project executor can perform transparently and professionally.
 
"2nd Echelon is prone to corruption"
http://print.kompas.com/baca/2015/11/04/Posisi-Eselon-II-Rawan-Korupsi - Kompas, Wednesday, November 4, 2015
The Financial Transaction Analysis and Report Center (PPATK) gave a red status over the position of second echelon in the civil servant's structural ladder. This means that second echelon officials are categorized as a high risk profile or a position that is most prone to corruption and money laundering.
Share Link