Anti-Corruption Daily Digest: Update 2015-10-13
Tuesday, 13 October 2015 - 00:00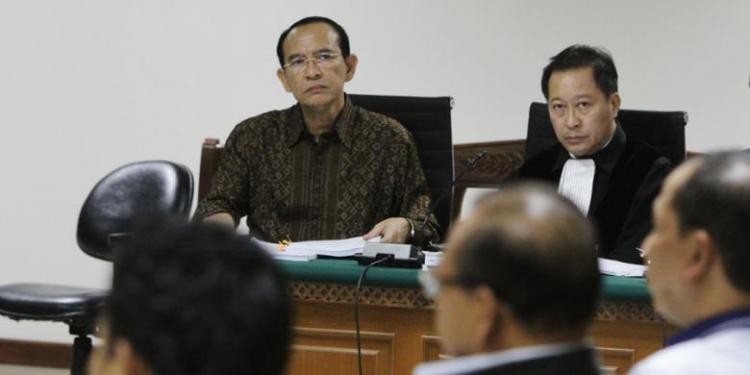 "Stop Plan to Revise KPK Law"
http://print.kompas.com/baca/2015/10/13/Hentikan-Rencana-Revisi-UU-KPK - Kompas, Tuesday, October 13, 2015
This is not the right time to revise Law No. 30/2002 about the Corruption Eradication Commission (KPK). Aside from turning into a loose canon that would only weaken and even terminate KPK, this revision will also step over the sessions on Draft of Criminal Code which is currently ongoing at the House of Representatives (DPR).
 
"KPK Law Revision Rebounded"
http://www.solopos.com/2015/10/13/solopos-hari-ini-revisi-uu-kpk-mental-651385 - Solo Pos, Tuesday, October 13, 2015
The Legislation Board (Baleg) of DPR adjourned sessions on revision of Law No. 30/2002 about KPK after receiving massive public backlash. The revision draft of KPK Law was returned to its proposers from PDIP faction, et al.
 
"Erry's Wife Received Money"
http://print.kompas.com/baca/2015/10/13/Istri-Erry-Terima-Uang - Kompas, Tuesday, October 13, 2015
Acting Governor of North Sumatera, Tengku Erry Nuradi, admitted that his wife who is also a member of the Provincial Representative Council (DPRD), Evi Diana, also received money that was alleged to be bribery related to DPRD deliberations on local budget (APBD).
 
"Jero Eliminated Evidence"
Media Indonesia, Tuesday, October 13, 2015
Former Minister of Culture and Tourism for the terms 2004-2009 and 2010-2011, Jero Wacik, was revealed to have instructed his administration staffs to destroy fictitious receipts that were drawn up as proof of using the Ministerial Operation Fund (DOM).
 
"Suryadharma Have Subordinates Manipulate Dates on DOM Expenses"
http://nasional.kompas.com/read/2015/10/13/06480501/Suryadharma.Minta.Bawahannya.Manipulasi.Tanggal.Penggunaan.Uang.DOM. - Media Indonesia, Tuesday, October 13, 2015
Administration staffs at the Ministry of Religion, Rosandi, revealed that former Minister of Religion Suryadharma Ali used Ministerial Operation Fund (DOM) to support his personal interests, including to provide a passport for his grandchild.
Share Link