9 Months After the Attack on Novel, Jokowi's Commitment is Put to the Test
Thursday, 25 January 2018 - 00:00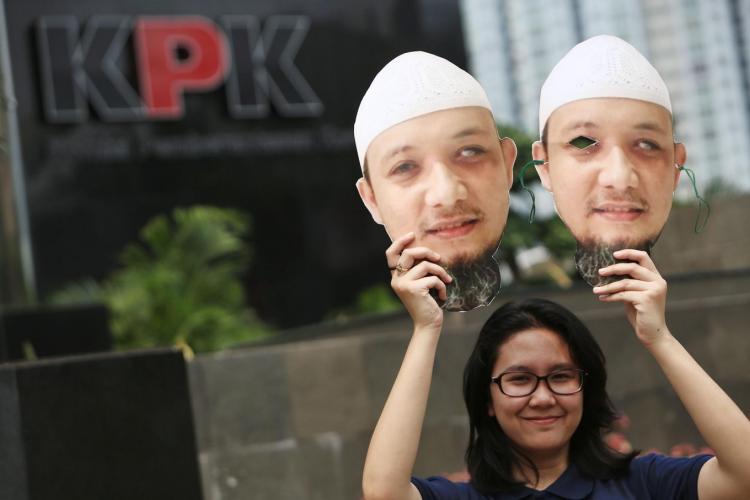 Foto: The Jakarta Post
Thursday, January 11, 2018, is exactly nine months after the attack against Corruption Eradication Commission (KPK) investigator Novel Baswedan. In the period, there has been no clear information on the result of investigation conducted by the Police of the Republic of Indonesia. Since the incident occurred, the Police has not indeed remained silent; several steps having been taken as described by Tempo.
Several of the steps taken include examination of a number of people who were in the vicinity of the location; conducting four crime scene investigations; examining Ahmad Lestaluhu as a suspect (since released); and working with the Indonesian Center for Automatic Fingerprint Identification System (Pusinafis) along with the Australian Federal Police (AFP) and releasing two face sketches about the alleged perpetrators based on testimony of 66 witnesses and opening a hotline for people who want to convey information related to the person.
According to the recapitulation of the information sent to the hotline, there are at least 1,058 incoming reports from the community members. The reports consist of about 700 telephone calls and about 300 messages. However, none of these reports contain useful information to investigate the case of attack on Novel Baswedan, so there is no certainty for the settlement of the case.
Novel's protracted case pushes the anti-corruption civil society coalition to take a weekly action every Thursday in front of the State Palace, and also sending a letter to President Jokowi. In essence, the Coalition asked the President to evaluate the performance of the Police in investigating the case of attack of Novel Baswedan. In addition, the Coalition also encouraged the President to form a Joint Fact Finding Team (TGPF).
The existence of a TGPF is important to guard police performance while maintaining objectivity, transparency, and accountability of case handling. However, the call for the TGPF is increasingly fading, in addition to getting no response from the President. Even the KPK leadership felt that such a joint team should not be formed just yet. The KPK is still confident that the police will solve this case.
The public should continue to oversee the settlement of the Novel case and continue to hope the Chief of Police is committed to resolving the case as soon as possible, because it is not complicated. As disclosed by Prof. Dr. Mahfud MD, this case is actually not a difficult one. (Dewi/Agus)
Link