Annual Report ICW 2021
The Illusion of Governance Reform
Thu, 09/15/2022 - 19:41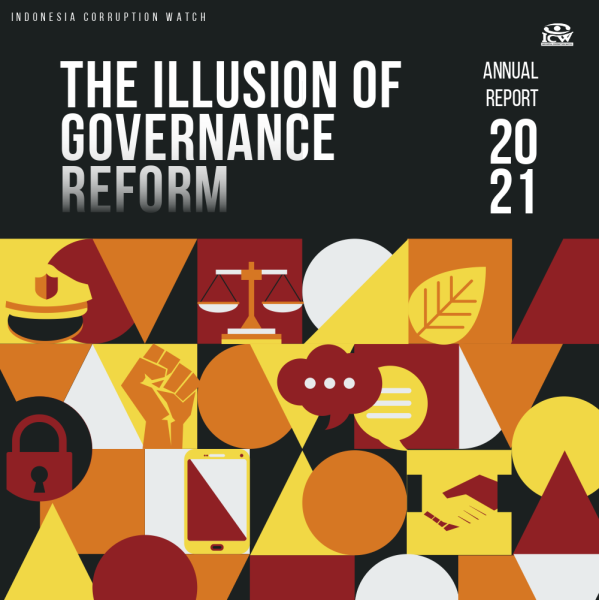 After dropping in 2020, Indonesia's Corruption Perception Index (CPI) will rise again in 2021. With a capital score of 38 (37 in 2020), and ranked 96th in the world (102 in 2020), Indonesia's corruption eradication can simply be said to have improved. But is that so? Referring to TI Indonesia's explanation, the increase in the 2021 GPA score was mostly contributed by the economic sector. It is perceived that corruption and bribery issues in the licensing, investment and business sectors can be handled better due to various government interventions, both through economic deregulation policies and the Omnibus Law.
However, this improvement is not actually followed by other sectors which are very important for strengthening the anti-corruption agenda in Indonesia. Among them are the stagnation in improving the rule of law, and the declining quality of democracy in Indonesia. The combination of deteriorating democracy and the ineffectiveness of the rule of law has resulted in a very strong and more authoritarian government. In addition, the external supervisory function that has been working effectively so far, namely the Corruption Eradication Commission (KPK) has its independence status amputated, thus turning off the checks and balances mechanism of power. Therefore, if political corruption gets worse, this is a logical consequence of the above causes.
The question is, is it worth it if we as a nation make trade-offs by encouraging the improvement of the economic sector, but at the same time, crippling the integrity of the political and legal sectors? The answer is of course very detrimental. The policy of cutting the licensing chain, which has been known to be the center of bribery, might reduce the problem of corruption.
However, when the policy of cutting procedures does not take into account the importance of other safe guarding that must remain, both environmental and social aspects, then we are actually closing down minor corruption, as well as opening the faucet of major corruption. The strengthening of oligarchic groups in various economic sectors has been facilitated, whether consciously or not, by policies that relax important procedures for any business group to be open and accountable in fighting for access to public resources.
The government's pragmatism that wants to move quickly in improving the situation has created new, increasingly complex problems. The problems of democratic regression, violations of human rights, exploitation of the environment, policing practices in various issues, legislative policies that violate various procedures and lack of public participation are time bombs for efforts to eradicate corruption.
The loosening of various public values ​​and ethics, the increasing practice of conflicts of interest by public officials, the increasingly closed government on access to public information, and the omission of the practice of physical violence and digital threats, in order to provide a sense of comfort and security for investors and businessmen cronies basically provide a more comprehensive view. whole for us, that improving government governance as reflected in the increase in Indonesia's 2021 GPA score is a false improvement.